From the coastal communities of Laguna Beach or Corona Del Mar to the inland Anaheim Hills or Yoruba Linda, if you own a luxury home in Orange County, you're likely to have a sizeable garage. And if you're like most Orange County residents, aside from parking your car, you may neglect the possibilities of this utilitarian space.


It's understandable because unless your garage is a well-curated museum housing a classic or high-performance collection of vehicles, the garage tends to be a sparse box of concrete, drywall, and storage.


If you've been looking for an area in your home to add storage, craft a high-traffic "mud" room, or create an additional workspace, the garage is ideal for addressing all three needs. Below are five smart storage ideas to revamp your garage.
Depend on your garage walls
Let's be honest, garages, as a general rule, are a classic example of wasted space. You've already utilized most of your garage's meaningful square footage when accounting for today's larger trucks and SUVs. Of course, piles of disorganized boxes, tools, or garden equipment don't help.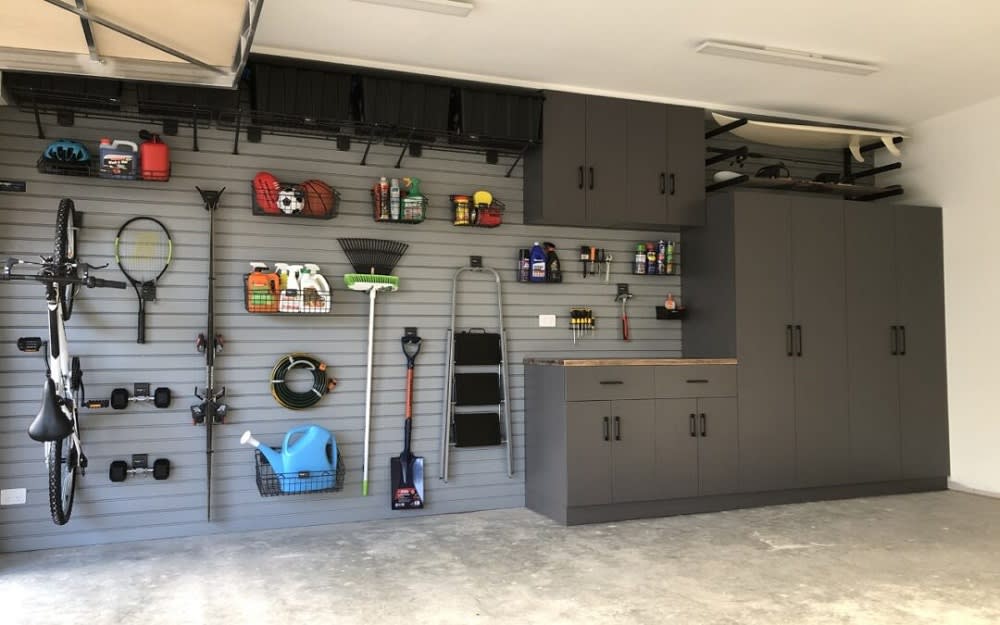 Even in the oversized garages associated with some of Orange County's more opulent neighborhoods, floor space disappears quickly without a thoughtful approach to adequately utilizing the area for storage. If you find you have an undersized garage—or oversized vehicle—it's time to go vertical. Your garage walls offer an abundance of new, untapped space for additional storage. Consider the following ways to transform your garage walls from useless to useful:
Simple shelving: If your storage needs are basic, a few shelves or hooks will keep your garage's tools and accessories out of the way.



Wall organizer: Wall-mounted broom or garden tool organizers provide a less clumsy and safer alternative to leaning them against a wall or collecting them in a corner pile. If you prefer to recycle and reuse, run-of-the-mill wood pallets will achieve the same goal and are easy to paint and mount for a custom look.



Pegboard: If you own more tools than you know what to do with, screwing a pegboard onto one of your garage walls lets you easily organize your collection.



Slat wall: The modern version of a pegboard, slat walls provide a more modular and flexible approach to your storage; you can hang storage baskets, light cabinets, or individual tools from moveable hooks that slide and lock into place along the slats.



Fold-down workbench: If you need extra counter room to work on, a fold-down workbench installed just below your pegboard adds and saves space simultaneously.



Wall-mounted cabinets: In terms of heavy-duty solutions for garages that double as oversized tool sheds, cabinets will keep your more unsightly items out of view and are a great selling point should you ever list your home for sale.
When installing any of the above solutions, map out the most convenient location for each before you start drilling any holes. You'll want to provide enough clearance for both you and your vehicles (especially when mounting wall cabinets) and maintain clear pathways throughout the space.
Reimagine your corner storage
While you're in the process of making the most of underutilized walls, you should also rethink your garage's corner voids. A corner void is where you'll find cobwebs, leaves, loose nails and screws, and at least a few square feet of space that can serve a better purpose than a de facto trashcan.


In the average garage, you'll find four such corners. The first two, situated on either side of the garage door, are ideal for tall narrow shelves to hold lesser-used items that need to remain within reach. The third corner void is usually far enough out of the way that it's an ideal location for your primary storage and workbench. The final corner void is nearest where the garage leads into your home. Most garages feature a few extra feet of space in this void that regularly turns into a catchall. Instead, give this area a purpose.


You have enough space for a small bench with under-seat storage in many of these entry voids. You can also install secure lockers to hold gear from your favorite outdoor pursuits, including golf clubs, surfboards, skis, or fishing rods. Have even more space? Consider creating an entry vestibule that serves as a genuine mudroom before entering your home.
Take a modular approach
One of the more daunting aspects of gauging your storage needs is realizing that what might work today may not be sufficient for tomorrow. Instead of trying to predict the future and create the ideal garage space for unknown needs, start small, go modular, and expand your setup as your situation changes.


You can start with a simple three-piece stainless steel garage storage system that includes a standing locker, wall cabinet, and drawer cabinet with a small flat workspace. As your storage requirements increase, you can expand your setup, including storage systems with 20 or more separate pieces. It's the next best thing to owning a stand-alone storage shed.
Transform the third stall catchall
It's a common sight in many Orange County homes: one two-car garage stall and a single third stall. While it's a good problem having extra space, unless you have a third vehicle to fill the hole, the third stall ends up as a catchall of toys, half-filled boxes, and long ago abandoned holiday decorations. What many Orange County homeowners overlook are the numerous conversion possibilities.


The average size of a single stall garage is approximately 240 square feet—roughly the same size as the primary bedroom in a traditional single-family home. In other words, there's a lot you can do with 240 square feet, including:
Tool and garden shed: Take all of the above ideas and create your dream garage storage and workspace, leaving your main two stalls untouched to serve their primary purpose.



Home office: Pushed into working from home during the pandemic left many homeowners scrambling for a distraction-free zone to do their jobs. Work from home more privately by transforming your garage space into a suite.



Gym: Instead of converting a small unused bedroom or den for your workout, build a dedicated fitness center into your garage with plenty of space for weights. Add in multiple exercise machines and floor space left over to do yoga or take online aerobics classes.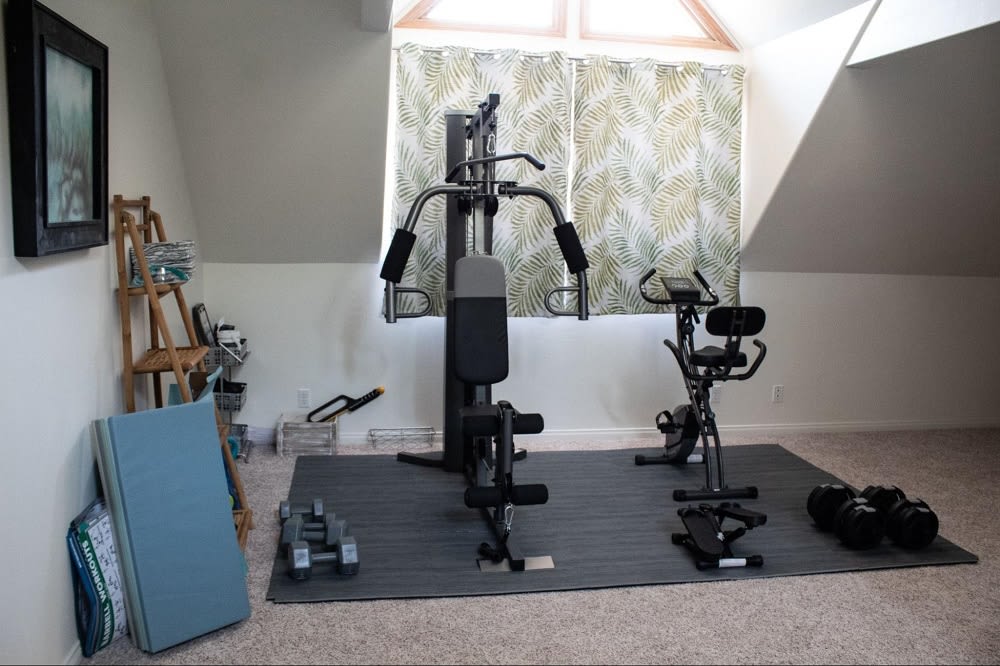 Children's playroom: The beauty of creating a playroom is that you can open up the garage door for indoor-outdoor fun on those gorgeous and sunny Orange County afternoons.



Home theater or game room: Whether a private screening room with tiered seating, laid-back billiards or gaming space, or your own personal wine cellar and tasting room — a fun spot for adults, too!



Guest suite: 240 square feet is enough space to create a comfortable bedroom and en suite for your favorite visiting in-laws. Get ultra-creative with the room and consider adding a kitchenette or sitting area.



Music room, recording studio, or art den: If the creative arts run in your family or how you make your living, soundproof the garage stall for an intimate art or recording studio. Punch out windows and add a glass garage door for a light and airy artistic enclave.
These conversions will require an additional interior and exterior wall, potential window installs, finished ceiling, insulation, wiring, plumbing, flooring, and an HVAC unit to maintain a comfortable environment. However, with the base structure and foundation already in place, modification costs are lower than a ground-up home addition. Should you ever sell your home, the allure of open flex space is a huge selling point.
Take your storage—and your vehicle—to the next level
If you really want to trick out your garage's capabilities (and don't have the luxury of a third garage stall), do so in a manner that makes you the envy of the neighbors. Install a car lift as part of your storage makeover. A handful of eight-figure homes along the Orange County coast feature this wonderful, high-end amenity. Of course, if yours is already a custom home, talk to your architect about adding a lift matching your home's aesthetics.


However, simpler versions exist if you're searching for a more low-key solution to park a prized vehicle out of harm's way or boost your floor space. There are both two-and four-post options you can purchase and install for less than $5,000. Make sure your garage's height and concrete floor thickness are compliant with local codes and meet the requirements for installation.
Ready to buy or list an Orange County home for sale?
Contact
The Davis Osgood Group today to start your home buying or selling journey in Orange County. From Dana Point and Laguna Beach real estate to San Juan Capistrano luxury homes, allow the
Davis Osgood Group
's experience and local expertise to be your guide to the Orange County luxury real estate market.

*Header photo courtesy of Woman's Day